| | | |
| --- | --- | --- |
| | Photo Gallery | |
| | | |
| --- | --- | --- |
| | Information | |



| | |
| --- | --- |
| Customer Care | |

How to Order:
You can place a safe and secure (protected by 128-bit Secure Sockets Layer - SSL encryption) order online anytime at desiVastra.com. If you have any questions or need assistance, you can reach us at (516) 312-6880 during normal business hours (9:00 AM - 6:00 PM EST) seven days a week.


Payment Options:
Payments can be made online by



using Authorize.Net secured payment gateway,








or check/money order. All online transactions are completely secure using 128-bit SSL encryption. For more details read our Privacy Notice.
Please note that in case of credit card payments, the charge will appear as Acro International Inc. on your statement.


Special Offers:
Sale: 10% OFF on orders over $100. Use coupon code DV10010.
Shipping: FREE Shipping within USA on orders over $75.00, NOT applicable for Express Shipping. Use coupon code DVSH75.

Limit one coupon per order.
Shipping:
Domestic (within USA): desiVastra.com uses USPS

for all your shipping needs. You can choose between Express (next day delivery - starting @ $16.25), Priority (2-3 days - starting @ $4.60) or First Class (upto 13 ozs - starting @ $1.50) at the time of check-out. For our local customers in NY, NJ, CT and PA - there is also a self-pickup option available during check-out. This allows you to save on shipping.

International: We ship to virtually every country in the world. Here is a list of the countries where we ship - Canada, UK, Australia, Austria, Belgium, Denmark, France, Finland, Germany, Greenland, Greece, Holland/Netherlands, Iceland, Ireland, Italy, Israel, Japan, New Zealand, Norway, Poland, Portugal, Singapore, Spain, Sweden and Switzerland. The average shipping rates are $16.00 (upto 1 pound), $24.00 (upto 2 pounds), $28.00 (upto 3 pounds) and so on. If you need your order to be shipped to any other country, please contact us.

Once you log-in, you can view shipping estimates while you shop for your primary shipping destination in the shopping cart page. Our customers within USA can view realtime shipping estimates just by adding an item to the shopping cart.

Based on the shipping option you choose, your order may take between 2-10 business days. Please note that the shipping schedule is quoted by the shipping company and any delays are the responsibility of the shipping company.

International shipping charges do not include any fees charged by the customer's country. It is the responsibility of the customer to pay any and all customs fees.

All orders will be processed within 2 business days, once payment is received. If you need shipping insurance or have any other question, please contact us. All merchandise is shipped from our warehouse in New York, USA.

Low Order Fee: There is a $2.00 fee for all orders under $10.00.


Return/Exchange Policy:
You can return/exahange any merchandise (other than gift vouchers) within 3 days of receipt of your shipment. A 10% (min $1.00) restocking fee plus S&H will be charged for all returns and exchanges.
To return/exchange a merchandise, follow our three step process:
Call 516-312-6880 or email us for a Return Approval within 24 hours of receipt of shipment.
Pack the merchandise as you received it with all packaging and tags intact, and ship it back to us within 3 days of receipt.
For your security, please return the package to us by an insured courier (FedEx, UPS or Parcel Post) and retain your receipt. This will protect you in case your return is lost in transit. All returns should be sent to the address as specified in the packaging slip.
Once your return is received, it will be reviewed by our Returns department. You will receive an e-mail notification regarding your return or exchange within seven business days. Any unauthorized, uninsured, improperly packed package or any package not postmarked within 3 days of receipt will be returned to sender. Items that show signs of wear or have been used, altered, or damaged in any way cannot be accepted for return. Your money will be refunded or your credit card account will be credited for any payments you have made toward your purchase. Refunds on purchases made with a credit card will only be credited to the same card.

Shipping charges, low order fees and any other initiation charges, if applicable, are not refunded; if merchandise was shipped free, upon return / exchange, the initial shipping cost will also be charged to the customer. Please allow one monthly billing cycle in order for your credit to appear.

For more information email us.

Note: Gift Vouchers are non-refundable.


WholeSale:
We do offer bulk order discount. Our wholesale discount varies based on the type of product(s) you purchase and the total order value. Re-sellers are welcome. For more information please contact us.


Canceling an Order:
The order can be cancelled anytime until the shipment is made.


Out-of-stock Items:
desiVastra.com makes every effort to keep a good stock of all the items on our site. Occasionally, a high-demand item may be sold out. If an item you ordered is sold out, we will notify you via email.


Disclaimer:
The merchandise sold at desiVastra.com is hand crafted in the finest traditions of India's handicrafts. Irregularities in weave, print, embroidery or workmanship are a characteristic of the process and beyond our control.
Shades seen on the screen may vary from the original.

Prices are subject to change without notice. We do not offer price adjustments or apply special promotions on prior sale.

All disputes are subject to the law and jurisdiction of New York, United States of America.


0 item(s)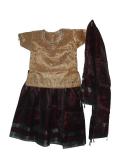 Kids Pavada, Pattu lehenga for 3 to 5 year old girls (PV34018)
$44.99
$40.49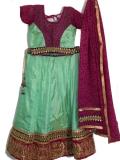 Aqua & Purple Bandhani Lehenga Choli with Zari Work
$90.00